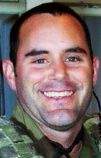 US Navy Special Warfare Operator CPO (SEAL) Matt Mason, 37, Kansas City, MO was
one of 30 Special Forces killed on 06 August 2011 near Combat Outpost Sayed Abad,
Afghanistan due to hostile enemy action. Matt will receive full military honors and will
be buried at Arlington National Cemetery.

Thank you to all Patriot Guard who supported this mission for CPO Matt Mason.
______________________________________
This is a Patriot Guard Riders, Inc. mission.
Check the PGR website for updates to this mission.
PGR Ride Captain:
'Whisky' Bob Sever 816 898-3417 moharleybro@gmail.com
Co-Captains:
Jerry Hearne 816 591-4766
Ron 'Max' Maki 816 718-5082
PHASE 1: (ESCORT)
DATE/TIME: Monday, 15 Aug 2011/10:45 am
STAGE: G Lot (at base of Tower), Kansas City International Airport (KCI)
ESCORT TO: Bross Sidle Funeral Home, 208 S Jefferson, Kearney, MO

PHASE 2: (VISITATION)
DATE/TIME: Tuesday, 16 Aug 2011/3:30 pm
STAGE: First United Methodist Church, 1000 E State Route 92, Kearney, MO
VISITATION: 5-8 pm

PHASE 3: (ESCORT—FUNERAL—ESCORT)
DATE/TIME: Wednesday, 17 Aug 2011/6:30 am
STAGE: Bross Sidle Funeral Home, 208 S Jefferson, Kearney, MO
KSU: NLT 7 am
ESCORT TO: Church of the Resurrection, 13720 Roe Ave, Leawood, KS 66224
(if you wish to assist in flag placement, please stage at this location at 7 am)
FUNERAL: 10 am
ESCORT TO: KCI or Kearney following services