kansas patriot guard, kansas patriot guard, kansas patriot guard
Patriot Guard Mission Complete
for Fallen Hero
US Army Sergeant Jeffery S. Mersman
Wednesday 21 November 2007
Osawatomie, Kansas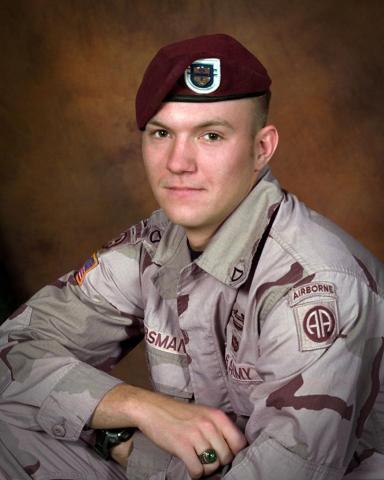 US Army Sgt Jeff S. Mersman, 23 years old of Parker, Kansas was one of five soldiers killed in action 09 November 2007 in Aranus, Afghanistan. Sgt Mersman was serving the United States of America fighting terrorism supporting Operation Enduring Freedom. Sgt Mersman had served 3 Tours of Duty in Iraq and had joined the US Army 6 years ago. Sgt Mersman died of wounds sustained when their patrol was ambushed by direct fire from enemy forces. Sgt Mersman was assigned to 2nd Battalion, 503rd Airborne Infantry Regiment, 173rd Airborne Brigade Combat Team, Vicenza, Italy.
Thank You Notes:
My sincere appreciation goes out to all the Patriot Guard Riders who participated in honoring the life of my son, Sgt. Jeffery Mersman. Nearly two hundred dedicated patriots escorted Jeff from the airport in Gardner, Kansas to the funeral home in a display of patriotism I have never witnessed. Jeff's family and friends were deeply touched and continue to express their gratitude for your participation. Your presence during the visitation was also a tremendous show of respect. Standing guard with your American flags and your willingness to protect the privacy of my family during this difficult time, meant a great deal. Many Patriot Riders braved extreme weather conditions to participate and honor Jeff at the funeral service and burial. I feel honored knowing that Jeff's military service was appreciated by all of you. It was a pleasure meeting the dedicated men and women of the Patriot Guard. Your participation touched the lives of many people and you will never be forgotten. Please continue to pray for Jeff and all the families that you come in contact with. May God bless you and all the Patriot Guard Riders.
Sincerely,
Robert Mersman
I just want to say that the showing of the guard for Jeffrey Mersman on Saturday at Gardner Airport,
was the most impressive event I have ever witnessed. It was a very sad day to bring home a child like that.
We are ever appreciative for your mission. Again, Thank You from the bottom of my heart!
God Bless you all and God Bless America!

Sally Emerson