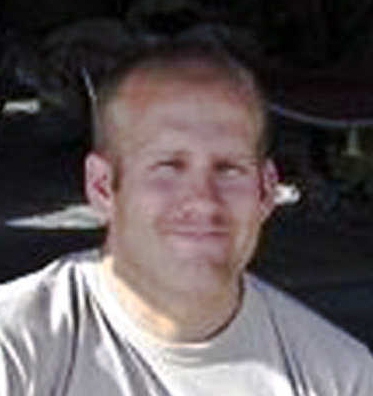 US Army Reserve CWO2 Bryan Joseph Nichols, 31, from Overland Park, Kansas
was one of 30 Special Forces killed on 06 August 2011 near Combat Outpost
Sayed Abad, Afghanistan due to hostile enemy action. He was deployed
twice in Iraq and once in Kosovo. He graduated flight school in 2008 and was
a well-respected helicopter pilot. He was a Chief Warrant Officer with Bravo
Company, 7th Battalion, 158th Aviation Regiment General Support Aviation Battalion.
_____________________________
Thank you to everyone who attended missions to honor CWO Bryan Nichols in Hays, KS. Bryan's escort on 17 August 2011 from Hays Regional Airport was led by Hays ALR 173 members. On 19 August 2011 we stood in Bryan's honor at his funeral service, then escorted him to his final resting place at Pleasantview Cemetery west of Plainville. Two Chinook CH-47 helicopters flew over the graveside service, and one pulled away paying tribute to CWO Bryan Nichols as well as the 29 men who died with him on 06 August.
Bryan's family and friends extend their appreciation and thanks to everyone who were present, as well as to those who could not participate but offered their prayers.
We thank all Patriot Guard members for your continued commitment to hold the American Flag and stand guard for our Fallen Heroes. Everyone did an outstanding job. Thank you to the Road Guards for leading and keeping us safe going to and from the missions, and the Staging Crew for all they do, including managing the motorcycle lineup, parking, and the flag lines. We extend a special thank-you to all Law Enforcement Officers who provided safe escort to our destinations on each part of this mission.


Strength and Honor.

Darkhorse
Link to Final Itinerary Document --> here